Iran has executed a British-born Iranian citizen accused of spying for Britain.
Ali Raza Akbari worked. Iranis Deputy Defense Secretary and was arrested in 2019, accused of spying for MI6.
Iran's state media announced that he was. He was hanged to death.
Sky News takes a look at the details of Mr Akbari's life and the allegations against him.
A government minister under a reformist president
Akbari served as Iran's deputy defense minister when Ali Shamkhani was a minister in the administration of reformist President Mohammad Khatami from 1997 to 2005.
He was a close associate of Mr. Shamkhani, who is currently secretary of Iran's Supreme National Security Council, since the Iran-Iraq war in the 1980s.
He also served in other security roles, including as an adviser to the Iranian Navy, and led the implementation of UN Resolution 598, which ended the Iran-Iraq War in 1988.
Mr. Akbari recently ran a private think tank.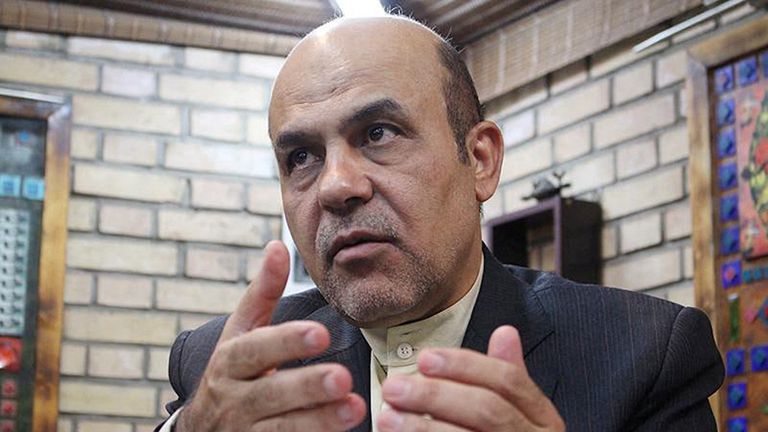 Life in Britain and his capture.
According to Iran's state news agency IRNA, Mr. Akbari moved to Britain in 2008 after being briefly detained and released on bail.
According to reports, he was arrested in 2019 and accused of spying for MI6 on past nuclear negotiations between Iran and the West.
Iran's semi-official Tasnim news agency claimed that Iranian intelligence had unmasked him by providing him with false information, calling him "one of the most important infiltrators of the country's sensitive and strategic centers".
Read more:
Sports stars are being arrested, jailed and executed.
Like shooting and tear gas Anger grows over executions.
Allegations of espionage
Iranian state media said a video broadcast on Thursday showed Mr Akbari played a key role in the 2020 assassination of Iran's top nuclear scientist.
Mohsin Fakhrzada was killed in an attack, which authorities blamed on Israel.
In the video, Akbari did not admit involvement in the murder but said that a British agent had asked for information about Fakhrzada.
Iran's judiciary claimed that Akbari received large sums of money for providing information to MI6, as well as his British citizenship and other support from London.
'Drugged and tortured': Alleged spy recounts ordeal

Torture and false confessions
Mr Akbari denied the allegation and claimed he was tortured and given mind-altering drugs and forced to confess to crimes he did not commit.
In an audio recording purportedly made by Mr Akbari and broadcast by BBC Persian, he said he returned to Tehran at the invitation of a senior Iranian diplomat involved in Tehran's nuclear talks with world powers. are
His wife Maryam Samadi told BBC Farsi that he was held in solitary confinement for 10 months before being transferred to Tehran's notorious Avon prison, where Iran also jails other dual nationals.
In the recording, Akbari said that he had made a false confession as a result of the torture:
He said: "Through more than 3,500 hours of torture, psychedelic drugs, and methods of physical and psychological pressure, they took away my will.
"They drove me to the brink of insanity… and forced me to make false confessions at gunpoint and death threats.
"They would tell me: 'If you resist, we will send you to the dark cells of Avon Prison where you will face an interrogator with a whip.'"
In the message, he also said he had been accused of "obtaining classified information in exchange for a bottle of perfume and a shirt" from his former boss, Mr Shamkhani. Mr. Shamkhani is sticking to his role.
'It won't be a challenge'
Prime Minister Rishi Singh has said he was "horrified" by the execution, adding: "It was a cowardly and cowardly act, carried out by a barbaric regime with no respect for the human rights of its people. My thoughts are with Alireza. with friends and family."
Foreign Secretary James Cleverley said: "Iran has executed a British citizen.
"This barbaric act deserves condemnation in the strongest possible terms.
"It will not stand unchallenged."

for more News Click here