About 6,000 protesters, including Swedish climate change activist Greta Thunberg, have gathered in western Germany to protest against a village's approval for a controversial coal mine expansion.
Demonstrators marched through Canberg, which is close to the demolished village of Luetzerath, chanting: "Every village lives" and "You are not alone". A group entered the mine after some workers tried to break barriers around the Garzweiler coal mine, police said.
Thunberg told protesters: "This is a betrayal of current and future generations… Germany is one of the biggest polluters in the world and needs to be held accountable." She then joined the march with a cardboard sign, saying "Luetzi Stays" using the short name of the village in German.
Read more:
Riot police cleared several anti-coal activists from the abandoned village.
Coal mine noise symbolizes energy conflict – analysis by Sky's Hannah Thomas-Peter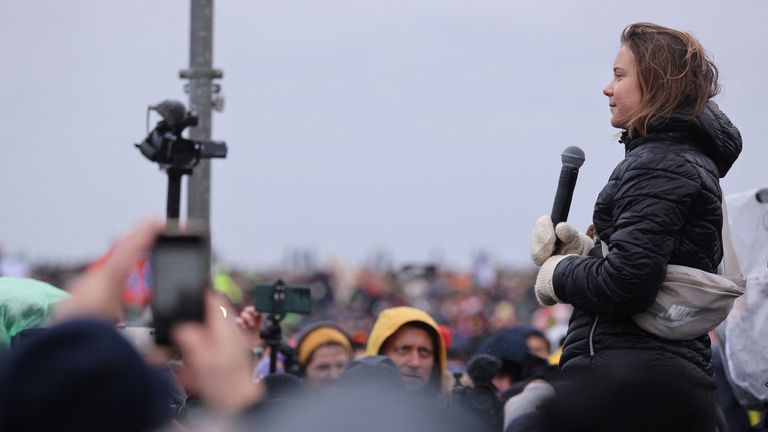 As the protesters approached Luetzerath, they were met by riot police, some of whom used batons to push them back. Police said they had to use force to stop some people near the danger zone at the edge of the excavation area.
Protesters occupied Luitzerth until a major police operation to evict them began this week, following a court ruling allowing the mine to expand.
On Wednesday morning, more than 1,000 riot police began removing barricades that protesters had been preparing for weeks, and on Thursday a key building in the village was cleared by police, bulldozers quickly felling trees and removing debris. Proceed to .
Click to subscribe to ClimateCast wherever you find your podcasts.
In the first three days of the operation, police said about 470 people had left the site, 320 of them voluntarily. On Friday afternoon, he said there were no workers on the remaining buildings or on their roofs.
German news agency DPA reported on Saturday that there are 15 "structures" such as treehouses that have yet to be tackled, as well as a tunnel in which two people are believed to have been trapped. are still hidden.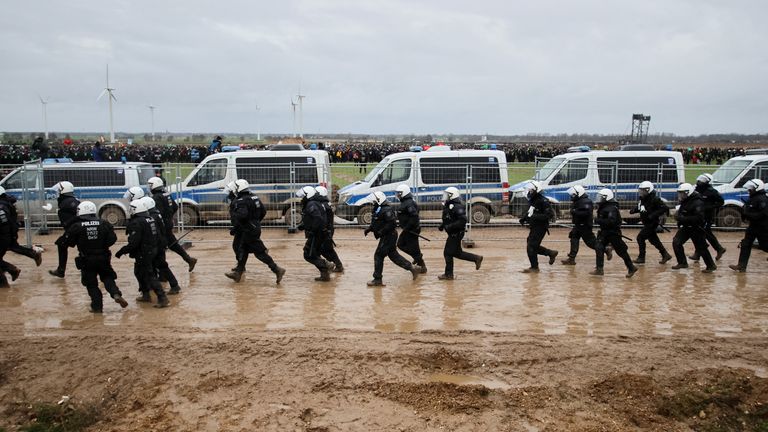 The area around the village in the western state of North Rhine-Westphalia is rich in lignite coal, a low-grade version of the fuel that is particularly polluting because much of it has to be burned to make power units. Is. Lignite is responsible for about a fifth of Germany's carbon emissions.
Luetzerath has become a thorn in the side of the German government's climate efforts, which includes the Greens as a coalition partner. Activists say the mine expansion will increase greenhouse gas emissions, while the government stresses the need to ensure Germany's energy security, especially in the wake of Russia's invasion of Ukraine.
The Daily Climate Show Monday to Friday at 3.30pm, and Saturday and Sunday at 3.30 and 7.30pm The Climate Show with Tom Heap. All on Sky News, on the Sky News website and app, on YouTube and Twitter.
The show investigates how global warming is changing our landscape and sheds light on solutions to the crisis.

for more News Click here