Peruvian authorities have closed the popular tourist site of Machu Picchu amid ongoing protests that have killed dozens of people since it began a month ago.
Protests have spread across the Andean nation since early December, with new clashes reported in Cusco, the gateway to the nearby Inca Trail and the ancient ruins of Machu Picchu.
"Given the current social situation in which our region and country are immersed, the Inca Trail Network and Machu Picchu have been ordered to close until January 21 and until further notice," cultural authorities in Cusco said in a statement. Is". .
Protesters tried to seize the city's airport, which many foreign tourists use to access the area, injuring 37 civilians and six police officers, according to health workers.
Thousands of protesters clashed with police in Peru's capital

Airports in Arequipa and the southern city of Juliaca were also attacked by protesters, hurting Peru's tourism industry.
Demonstrations and road blockades against the government of Peruvian President Dina Bolvarte and in support of ousted President Pedro Castillo also broke out in 41 provinces, particularly in southern Peru.
Some of the worst violence occurred on Monday, when 17 people were killed in clashes with police in the town of Juliaca near Lake Titicaca. Later, the protesters attacked and burnt a policeman to death.
On Friday security Forces fired tear gas in the capital city of Lima. To push back protesters who threw glass bottles and rocks, as fires burned in the streets.
After his widely condemned attempt to dissolve Congress to avoid an impeachment trial, unrest erupted in early December, leading to the arrest of Castillo, Peru's first president.
Leftist lawyer Dina Bolvarte was sworn in the same day after serving as Pedro Castillo's vice president.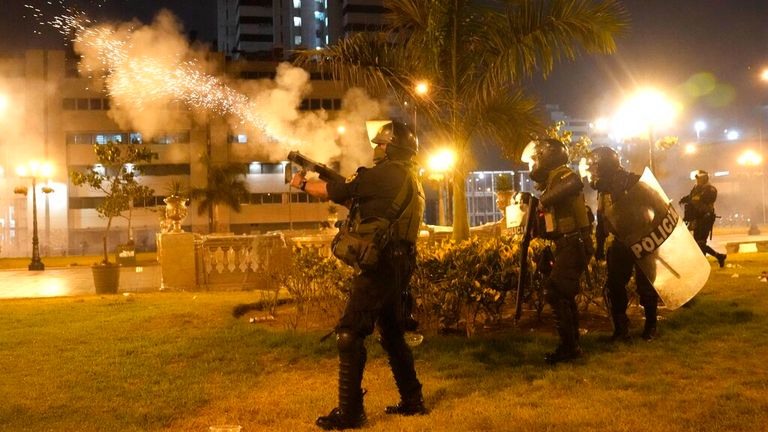 The protesters, mostly from the neglected, rural areas of the country still loyal to Castillo, demand snap elections, Bolverte's resignation, Castillo's release.
They also want justice for protesters killed in clashes with the police.
Dozens of civilians have been killed in clashes with the police and at least seven have died in road accidents related to the roadblocks.

for more News Click here