Ukrainian President Volodymyr Zelensky fought back tears as he met with the families of those killed in a helicopter crash on the outskirts of Kyiv earlier this week.
At a somber service in Kyiv, Mr Zelensky and his wife, first lady Olena Zelenska, placed flowers on seven coffins draped in the blue and yellow Ukrainian flag and spoke to family members.
The helicopter was carrying Interior Minister Denis Monastirsky and the rest of his ministry leadership. Crashed near the nursery school building. Wednesday in the residential suburb of Brewery.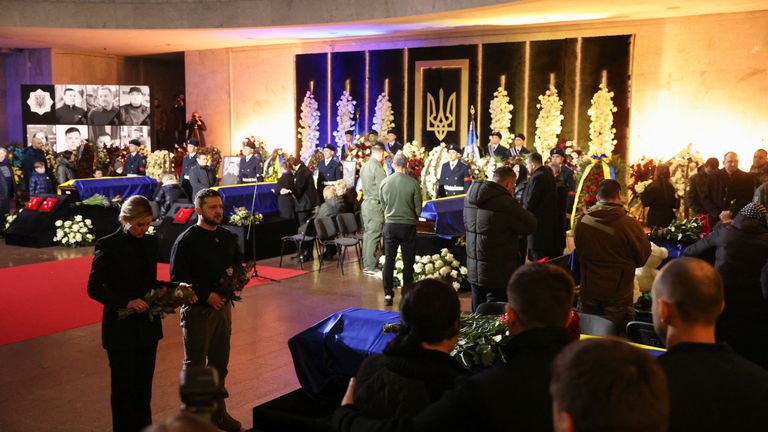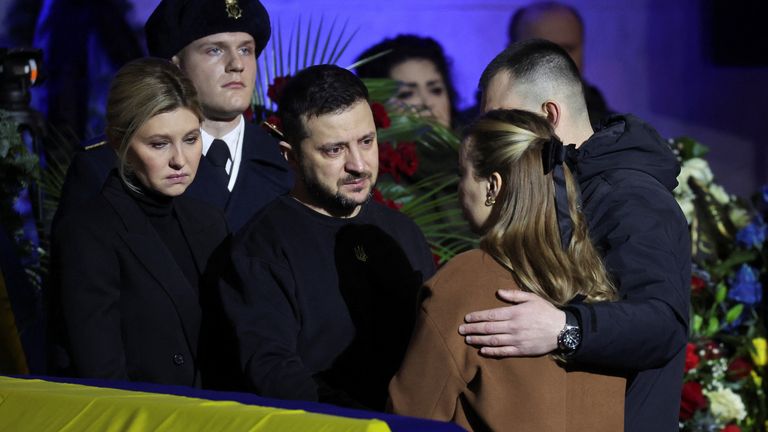 About a dozen people were killed in the disaster – including a child on the ground – in another blow to a nation grieving the tens of thousands of civilians and military personnel killed in the war with Russia.
Mr Monastyrsky, who oversaw the country's police and emergency services, is the most senior official killed since Russia invaded Ukraine.
President Zielinski appeared emotional at the service as he spoke briefly to the families of seven of those killed and played a small orchestra.
Authorities have not confirmed the cause of the crash but earlier this week Mr Zelenskiy said the incident was the result of war – a view echoed by Ruslan Stefanchuk, the chairman of Ukraine's parliament, speaking after the service.
"All of this would not have happened if the Russian Federation was waging a terrible and undeclared war against Ukraine," Mr Stefanchuk said.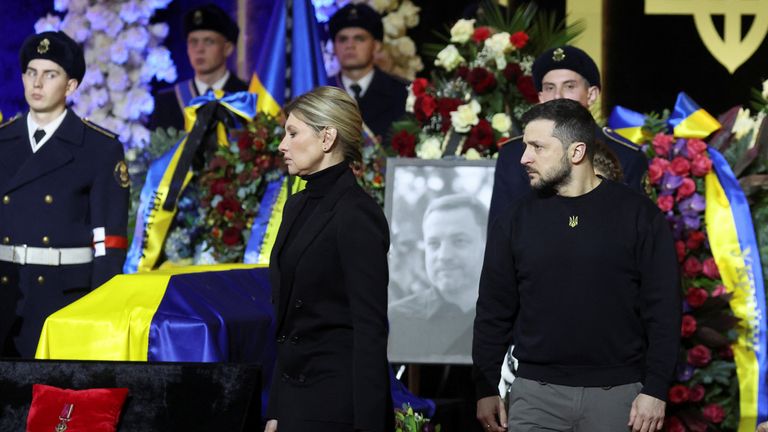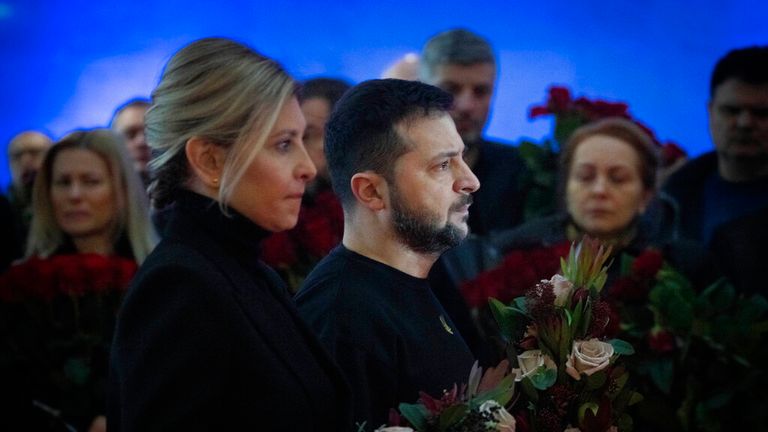 "Therefore, we must remember this and not forget these people. Because for Ukraine and Ukrainians, every lost life is a huge tragedy."
Russia's war in Ukraine, nearing the end of its 11th month, is "in a state of stalemate", according to an assessment by the UK Ministry of Defence.
It said Ukrainian forces appeared to be making small gains in the northeast, near the town of Crimea, while Russian forces were "possibly rebuilding" in the eastern town of Soledar, which it said Saturday. was taken at the beginning of
The ministry said in its regular update that there is "a realistic possibility of localized Russian advances" around the eastern city of Bakhmut, which would give the Kremlin a long-awaited victory after months of battlefield setbacks.
The deputy head of Ukraine's presidential office, Kyrillo Tymoshenko, said today that heavy fighting was ongoing for Bakhmut and that three civilians had been killed by Russian shelling in the eastern Donetsk region.

for more News Click here